was born and raised in Naples Florida. He was a born athlete and the best at whatever he set his mind to. As a child he grew up playing little league basketball, baseball and football. From there he grew into becoming a champion motocross racer, a nationally ranked tennis player and a World Champion Powerboat Racer! He was a true achiever and the best in anything and everything he did.
Motocross:
In the '70's, Joey raced on the professional motocross circuit earning $500 to $600 a week and climbing to a No. 1 ranking in the southeastern United States. His motocross career ended abruptly during practice in his mid-20s. Joey landed hard when coming off a jump and the impact forced the bike's foot peg to pierce his knee and severing a tendon. That sidelined him for good.
Tennis:
Referring to himself as a "fierce competitor," Gratton found tennis. He picked up a racket for the first time at 28 and by the time he was 35, Gratton was the No. 1 ranked amateur player in Florida and No. 3 nationally in his age group. He regularly competed in the USTA Leagues where he and his team won the National Championship in 9.0 mixed doubles. He was looking forward to the 2012 season where he was going to start playing the national "Father/Son" tournaments with his son Brock. "Joey was an amazing guy," said two-time Australian Open-winner Johan Kriek, a former Naples resident and close friend of Gratton. "He was a tremendous athlete. Joey did everything to the fullest — a larger-than-life type of guy, one of the last of the Mohicans."
Offshore Racing: After moving to Sarasota, Joey loved watching the Suncoast Offshore Grand Prix Powerboat races. Year after year he would say "I'm going to be in one of those boats one day". In 1997, his dream came true. Gratton raced a powerboat for the first time when a throttleman recognized him from his motocross exploits and he was invited to drive a prostock outboard at the Suncoast Offshore Grand Prix. He of course accepted the invitation! Joey was a natural, it was like his motocross days where he was one with the machine. It required the same timing that was needed in motorcross and becoming number one felt in his grips. His first race did not go exactly as planned, during the pace lap Joey was stunned as the steering wheel came off in his hands! After wrestling it back onto the shaft, they popped a motor and was unable to finish the race. This was the start to his powerboat racing career. Gratton overcame that inauspicious start to join and race on another team where he earned his first national win later that year. It was also in 1997 when Gratton met Steve Page. Joey Gratton and Page became teammates the following year and went on to win 7 World titles and 10 National championships and 53 National and Regional 1st place wins. Joey won additional World and National Championship's with other teams; Dirty Duck, In M'ocean Again, Pier 57 and most recently with Kyler Talbot, in the Stock Class Talbot Excavating out of Washington state.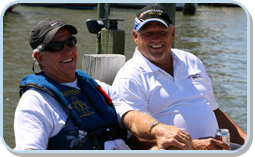 On 11/11/11, Joey was taken while racing in the 31st World Championship Powerboat Races in Key West, FL. He was on his final lap with 2 turns to go, when the boat rolled. He was .5 second behind the first place boat where he had been gaining on them with each lap. The boat rolled and Joey unfortunately did not make it. His driver Steve Page was able to free himself and was unhurt. Joey drowned leaving behind his soul mate of 33 years Priscilla, twin 30-year-old sons Brock and Blake, two daughter-in-laws Michelle & Brittany, and a granddaughter Scarlett, his mother Winnie and husband Ira Mogul, brother Ron Stanley and sister Kim Gratton. He loved racing and his passion for the sport can be seen in a video titled "In his Own Words",
watch it here
.
"Everyone dies, but not everyone lives..." Joey Gratton Lived... and is dearly missed.